Mark your calendars for August 12th, 2018
Start Time: 8:00AM





Divisions:
Female and Male Categories
| | | |
| --- | --- | --- |
| 15 & Under | 35-39 | 60-64 |
| 16-19 | 40-44 | 65-69 |
| 20-24 | 45-49 | 70 & Over |
| 25-29 | 50-54 | |
| 30-34 | 55-59 | |
Registration:
Saturday race packet pick-up available at Zorbaz on the Lake from 5-7pm. Race day check-in begins at 6:30am at Zorbaz on the Lake. Walk-in Registrations only available race day - if space is available. Pre-race briefing at 7:45am at the starting area - Dock behind Zorbaz on the Lake.
Fees:
Individual: $59.00 Per Person through May, 2015 / $69.00 from June 1-July 31 / $79.00 there after
2 Person Relay Team: $99.00 Per 2 Person relay teams through May, 2015 / $109.00 from June 1-July 31 / $119.00 there after
3 Person Relay Team: $139.00 Per 3 Person relay teams through May, 2015 / $149.00 from June 1-July 31 /$159.00 there after
Relay:
Relay team may be made up of any combination of 2 or 3 people, male or female.
Course:
The race starts off with a nice swim in sandy Green Lake. The bike ride takes a path of gently rolling hills around the Green Lake area, with a 3 mile run to the finish. The course is well marked with distances clearly posted.
Sprint Course:
1/4 mile swim, 14 mile bike, 3 mile run
Olympic Course:
3/4 mile swim, 22 mile bike, 6 mile run
Click to Download Map Click to Download Run Route Closeup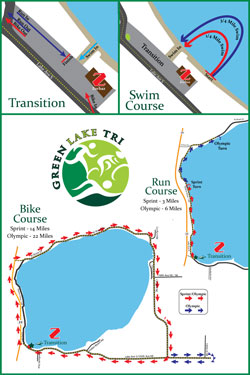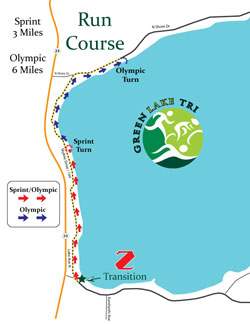 Download Bike Route Closeup Download Swim Route & Transition Closeup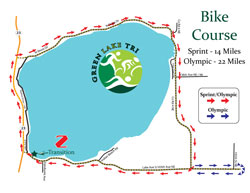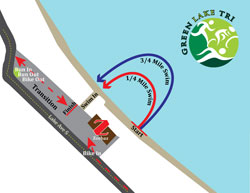 Packet pick-up:
Location: Zorbaz on Green Lake
Time: Aug 11th, 5-7 pm (North door) and Aug 12th, 6:30 am - 7:45 am (tent in parking lot)
Body Markings:
Next to packet pick-up (Tent).
Transition area:
Location: Parking lot next to Zorbaz
Times: Aug 12th, you can bring in your bike starting at 6:30am
Start:
Location: Behind Zorbaz (deck area)
Time: Aug 12th, pre-race meeting 7:50 am
We will have a few race announcements followed by the National Anthem. The Olympic group will hit the water first followed by the Sprint divisions every four minutes.
View Larger Map
Participant Guidelines:
Race Numbers must be displayed on your front and worn as you cross the finish line. Giving your race number to another person will result in disqualification. Participation in future races will be forfeited for those competitors who exchange race numbers.
All Triathletes are required to wear a certified bicycle helmet through the bike stage.
Competitors shall insure that their bicycle meets minimum safety standards.
Swimmers must wear swim caps provided.
Wetsuits
If the water temperature is 78 degrees Fahrenheit or below then wetsuits ARE allowed. At 78.1 to 83.9 degrees Fahrenheit participants may wear a wetsuit at their own descretion; however, wearing a wetsuit in the temperature range will mean that the athletes are ineligible for awards. At 84 degrees Farhenheit and above wetsuits are NOT permitted - this is for your own safety.
Current water temp is 74 degrees (as of 8/11/17).
Show good sportsmanship and have fun.
Green Lake Triathlon reserves the right to make any necessary swim wave changes or race course changes as needed.
All pre-registered participants will receive a confirmation card. Your cancelled check is your receipt.
All bikers and runners are sharing the course with vehicles. Participants must yield for vehicles for safety purposes.
Race Results - Click here
Training Guides